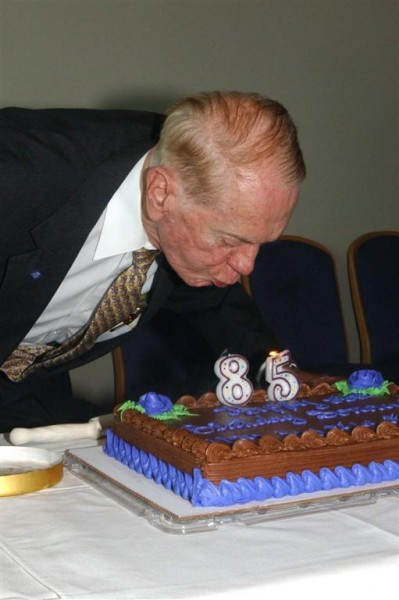 Monday, August 5th, marks the date of former Congressman G. V. "Sonny" Montgomery's 93rd birthday if he were still living today.
According to Bo Maske, Executive Director and President of the G. V. "Sonny" Montgomery Foundation, it's only fitting that on his birthday, KC-135R Tankers are returning to his beloved 186th Air National Guard Refueling Wing, and the return of that mission could not have been possible without the hard work, professionalism and dedication of its members.  The KC-135's are returning from various units across the nation and the Wing has scheduled an official welcoming ceremony this Saturday at 2 p.m..  "It's the best birthday gift he could have ever received," Maske said.
In conjunction with Montgomery's birthday, The G. V. "Sonny" Montgomery Foundation encourages everyone to visit the website, www.sonnymontgomery.org, which has been established in tribute to Sonny and his enduring legacy.   Bo Maske, Executive Director and President of the Foundation said, "This website was developed to acknowledge the hard work and dedication of Sonny Montgomery throughout his career.  We are proud to present it to the community out of love and respect for all that Sonny stood for."   The Foundation also invites its website visitors to take advantage of the section entitled "Send Us Your Memories of Sonny!" to post comments and photos that commemorate his career.
In keeping with Sonny's reputation for providing unsurpassed constituent service, the website also provides links to various government services
The website was developed by Paul Tarver, of Tarver Program Consultants, Inc. in Meridian.  Tarver, who is a member of Meridian's Downtown Optimist Club, said he had the greatest admiration for Montgomery, who was a lifetime member of the Club.  "During the course of his career, Sonny put people first," Tarver said.
Gillespie V. "Sonny" Montgomery was born in Meridian on August 5, 1920, and was educated in the Meridian Public School System.
Throughout his life, Sonny wore many hats and titles with a focus on service to his beloved State of Mississippi and the United States of America.  As President of the student body at Mississippi State University, he was a leader and voice for his fellow students.  As a soldier, he cared for the personnel under his command and worked hard to support them, and as an elected representative, he served wide-ranging constituencies with great distinction.
Montgomery joined the U.S. Army immediately upon graduation from Mississippi State, serving in the European Theater during World War II, where he was awarded the Bronze Star for Valor, Legion of Merit, and Combat Infantry Badge. He served on active duty during the Korean Conflict in the 31st National Guard Infantry Division, and had a long and distinguished career in the Mississippi National Guard, retiring with the rank of Major General after 35 years.
In 1956, he was elected to the Mississippi State Senate after operating a successful insurance business in Meridian. As a member of the state legislature he is credited for introducing legislation which established the Mississippi Educational Television network and served in the legislature for 10 years before being elected to the U.S. Congress in 1966.
He also served in the U.S. House of Representatives from 1967-1997, where he championed veterans' issues and fought for a strong national defense. During his 13-year tenure as Chairman of the House Veterans Affairs Committee, he established a peacetime GI education bill that now bears his name (the Montgomery GI Bill). The measure is credited with saving the all-volunteer military force by providing education benefits for active duty, National Guard and Reserve members.
As a member of the Armed Services Committee, Montgomery was a steadfast proponent of the motto of "peace through strength" and led efforts to improve the National Guard and Reserves. His work produced better training and equipment and integrated the Reserve components into the total national defense structure.
He made 14 trips to Southeast Asia during and after the Vietnam War in support of the troops, and also as a leader in efforts to determine the fate of Prisoners of War and the Missing In Action from the conflict. In 1990, he negotiated with the North Korean government to bring home the first set of remains of U.S. servicemen killed during the Korean War.
Defense Secretary William Perry presented Montgomery with the Department of Defense Medal for Distinguished Service in 1995, the highest civilian award given by the Pentagon. Montgomery also earned the Congressional Award from the Veterans of Foreign Wars, Distinguished Service Award from the American Legion, the Silver Helmet Congressional Award from AMVETS of World War II and the National Guard's highest honor, the Harry S. Truman Award.
During his career, he served under six presidents and counted former President George H.W. Bush as one of his closest friends. Bush and Montgomery served in the House together in the late 1960's, and Montgomery was a frequent visitor to the White House during the first Bush presidency and spent Christmas holidays with the Bush family at Camp David.
In a November 2005 ceremony at the White House, President George W. Bush awarded him the Presidential Medal of Freedom, the nation's highest civilian honor.
Congressman Montgomery, 85, died Friday, May 12, 2006, and a funeral service was held a few days later at Meridian's Temple Theater and was laid to rest at Magnolia Cemetery in Meridian.  Among the dignitaries in attendance at the funeral were former President George H.W. Bush and his wife Barbara.
In May 2012, the G.V. "Sonny" Montgomery Foundation unveiled a bronze bust of the late congressman that now graces the lobby of MSU-Meridian's College Park campus. Montgomery maintained an unofficial office on campus after returning home from Washington, D.C.
Sonny leaves a legacy that stands the test of time and he is greatly missed.  We are so honored that he called Meridian home!
For more information, contact Bo Maske, Executive Director and President of the G. V. "Sonny" Montgomery Foundation at gvm.fndn@gmail.com or 601-604-5978.  You may also contact Paul Tarver, webmaster of www.sonnymontgomery.org by e-mailing him at paul@paultarver.com or by phone at 601 483-4404.
You may also contact Brad Crawford, Wing Executive Officer, Key Field Air National Guard at 601-917-7186.
###