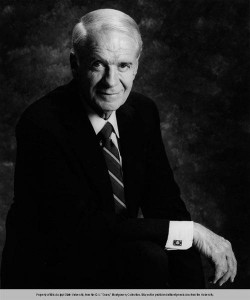 The G.V. "Sonny:" Montgomery Foundation's mission is to honor "Sonny", to perpetuate his important legacy, to encourage leadership, and support educational activities relating to citizenship, military service, and veterans' affairs.
The name G.V. "Sonny" Montgomery rings of Patriotism, Soldier, and Statesman. Sonny's legacy reminds of a strapping youth growing up in the midst of the depression in Mississippi. From MSU Class President, ROTC Cadet, decorated World War II combat veteran, National Guardsman, businessman, State Senator, U.S. Representative serving as Chairman of the Montgomery Commission, 14 year Chairman of the House Veterans Affairs Committee, senior member of the House Armed Services Committee, Montgomery GI Bill, National Guard & Reserve champion (himself a Major General MSANG), Base Closure and Realignment Commission (BRAC) opponent and finally, "at ease" in his final resting place of Meridian, Mississippi.
To accomplish this lofty mission, the Foundation continues to play a vital and increasingly active role in many programs and activities, including:
National Guard Youth ChalleNGe
Mississippi National Guard leadership recognition awards
Higher Education Scholarships for outstanding ROTC cadets, University President Scholars and other general scholarships for deserving students
Awards for JROTC project competitions
Citizenship programs
Veterans Programs and Events
Awards for project competitions for school children
Exhibits related to the Montgomery years at other institutions
MS Veterans Memorial Cemetery
Leadership Lauderdale
MS Armed Forces Museum
Boy Scouts
Air Force Assn, Navy League, Civil Air Patrol
G.V. "Sonny" Montgomery produced an important legacy, which you can help perpetuate by supporting the work of the foundation.  Your generous tax-deductible support can play a key role in celebrating the life of "Sonny" Montgomery and help the Foundation reach new generations that never knew him.  Numerous lives of others will be enriched by the legacy left by the man whose character and leadership traits left the world a better place for future generations.
All contributions are tax-deductible and may be sent to:
G.V. "Sonny" Montgomery Foundation
c/o Citizens National Bank Of Meridian
P.O. Box 911
Meridian, MS 39302