From The National Guard Association of the United States: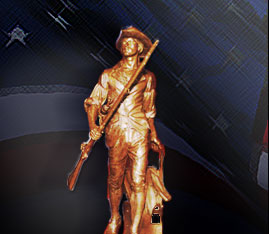 Guard Legion: 15 Large Donors Aid NGEF
The National Guard Educational Foundation has 11 new large benefactors to help fund the telling of the Guard story.
Foundation officials inducted the 11 into the Legion de Lafayette, which is reserved for those who donate at least $10,000 to the foundation, at a reception July 14 following the summer meeting of the NGAUS board of directors in Washington, D.C.
The NGEF also used the occasion to recognize four existing LdL members for adding to earlier contributions.
In all, the 15 honorees provided a combined $150,000 to the NGEF, which operates a variety of public education programs, including the National Guard Memorial Museum.
The new LdL members include corporations, state Guard associations, the elected heads of NGAUS and the Enlisted Association of the National Guard of the United States, and the foundation for the late congressman known as Mr. National Guard on Capitol Hill.
They are: AMERIPACK Inc., retired Col. Edwin Livingston and Marcia Gosline, retired Brig. Gen. John L. Jones, retired Chief Master Sgt. Roger A. Hagan and Family in memory of Master Sgt. Doris "Dorrie" Hagan, Humana Military Healthcare Services, retired Maj. Gen. Harold Gwatney, the G.V. "Sonny" Montgomery Foundation, the National Guard Association of Maryland, Remember My Service, the Wisconsin National Guard Association in honor of retired Lt. Col. Ronald R. Wagner, and Maj. Gen. Frank and Jane Vavala.
Chris Mears & Associates Inc., Cobham, EADS North America and the NGAUS Committee on Company Grade Issues all added $10,000 each to their existing donations.
EADS North America is one of the NGEF's corporate contributors. The manufacturer of the UH-72 Lakota helicopter has now donated $85,000.