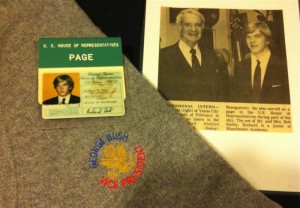 My father, Bob Bailey, was a close friend of Sonny's and through that relationship, I had the chance to meet Sonny many times while growing up in Yazoo City.  I have fond memories of Sonny, Charlie Shamburger and my dad telling stories about the days at Mississippi State and reminiscing of their past.  My sister, Mollie Dent, had the opportunity to serve Sonny as his Congressional Page on two different occasions.
My favorite memory of Sonny has to be when I served in Washington as his Congressional Page in the Spring of 1981.  It occurred February 18, 1981 when newly elected President Ronald Reagan gave his first Address before a Joint Session of the Congress on the Program for Economic Recovery.  I remember there was a great deal of excitement and optimism around President Reagan and his presidency at that time.
I rented a room at Miss George Smith's Boarding House with about 20 other Pages.  I got word early that day that I would have the chance to go with Sonny to the President's Address that evening.  I didn't think much of it as my day was filled with running committee papers, letters and other documents from Sonny's office to various members of Congress in the different House Office buildings.  It wasn't until I went back to the boarding house to change and get cleaned up that I realized how unique the invite from Sonny was.  No other Page from the boarding house had been invited by their Congressman or Senator.
I met Sonny at the Capitol where we arrived early for security.  As I walked in with Sonny, I remember being questioned on why I was there and to this day, I can see Sonny turning around and very politely telling the Door Keeper, "he's my Page and is coming with me".  There were no questions after that.
As members of the House, Senate and other dignitaries took their seats, I vividly recall looking around on the floor of the House Chamber at the Capitol and easily being able to count on both hands with a finger or two to spare, the other Pages along with me on the floor.  Looking back on it, I'm not sure why he chose me to go with him, but I'm very thankful he did as I had the chance to shake President Reagan's hand along with the hand of Sonny's close personal friend, Vice President George H. W. Bush.
I recall walking the halls with Sonny on different occasions and remember the respect everyone showed him and the respect he showed others.  I'm pretty sure that is one of the many reasons he was appointed Chairman of the US House Committee on Veterans' Affairs from 1981 – 1994 along with his tireless dedication and service to the military he loved.  Mississippi and the 3rd District are better because of Sonny and I'm honored to have worked for him.  I also wear with pride a cashmere sweater that has the Vice Presidents name and seal, given to Sonny by 41 and in turn given to my dad by Sonny.  Thanks for letting me share these memories and this photo.
Richard H Dent