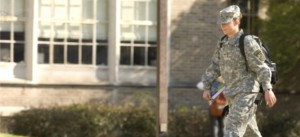 Office of Public Affairs
News Bureau (662) 325-3442
Contact: Amy Cagle
August 12, 2014
STARKVILLE, Miss. –The G.V. "Sonny" Montgomery Foundation has made a $100,000 challenge commitment to the late U.S. Congressman's alma mater for a new campus veterans center to be erected with private gifts on the Mississippi State campus.
"This is a most generous donation and a wonderful tribute to the late Sonny Montgomery who will always be remembered as a champion for assisting our servicemen and women," said MSU President Mark E. Keenum. "Currently the veterans center is housed in an older building that cannot adequately serve this growing portion of MSU's enrollment. A new home will enhance the educational and transitional environment for student veterans."
The MSU master plan proposes the state-of-the-art facility to be built on the northern central portion of the Starkville campus. Thus far, $2.2 million is in hand from private contributions toward the construction, and an additional $1.5 million is still needed in gifts. Once completed, the building will house a large classroom/multipurpose room, a computer lab, study rooms and office spaces.
Brad Crawford, president of the Montgomery Foundation, said, "We are extremely proud to be among the contributors for this facility that will be a larger base of operations for veteran activity at
Mississippi State University."
By stepping forward, the Montgomery Foundation seeks to encourage other private gifts to make the facility a reality, Crawford said.
At MSU, The G.V. "Sonny" Montgomery Center for America's Veterans is a national leader in providing campus-based veteran resources in support of 2,000 currently enrolled student veterans, service members, dependents and survivors. The university's 136 year-old land-grant institution been recognized for its veteran-friendly campus, most recently as a top 30 institution by U.S. News & World Report.
"This generous gift from the Montgomery Foundation celebrates the late Congressman Montgomery's legacy of service to veterans," said Ken McRae, director of the MSU center. "The gift will assist us in improving our support to MSU's student veteran community now and in the future."
A Meridian, Mississippi, native, Montgomery was a 1943 general business graduate of then Mississippi State College who served as Student Association president and was a member of the ROTC. Montgomery devoted three decades of his life to military service that included active duty in World War II and the Korean War. He retired from the Mississippi Army National Guard with the rank of major general after 35 years of service. He was awarded the Presidential Medal of Freedom, the highest civilian honor awarded by the United States, in 2005.
Montgomery began his political career in 1956 with election to the Mississippi State Senate and would serve a decade in that role. In 1966, Montgomery was elected to the U.S. House of Representatives and held office through the terms of seven presidents before retiring in 1996. He won national acclaim for his leadership in passing legislation for what become known as the Montgomery G.I. Bill and was known on Capitol Hill as "Mr. Veteran."
The Montgomery Foundation was established prior to Montgomery's death in 2006 at the age of 85. It currently supports scholarships for veterans at Mississippi State and has contributed to projects that further the Montgomery name and legacy at MSU and in his home state of Mississippi.
Gifts for the new veterans center are part of Mississippi State's ongoing Infinite Impact campaign, and alumni and friends may contact Wes Gordon, director of development for the Division of Student Affairs, at 662-325-9129 or email him at wgordon@foundation.msstate.edu to contribute.
More on the university's veterans center may be found at www.veterans.msstate.edu. To learn more about the Montgomery Foundation, visit www.sonnymontgomery.org.