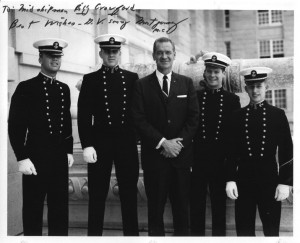 My first meeting with Sonny occurred in 1967 when he made his first visit to the U.S. Naval Academy in Annapolis. All Mississippi midshipmen were mustered to meet with him. As one of his constituents I was given the opportunity to help show him around. Not long afterwards I received the adjacent photo.  I was to learn later that Sonny always followed up on his meetings with constituents.  Many times after that first meeting our paths would cross. Every time he would say "hello Billy," like we were old friends. Indeed, Sonny made friends of nearly everyone he met…and remembered their names.
Years later, from 1991 through 1995, it was my privilege to work closely with Sonny on efforts to save Meridian Naval Air Station from closure. These pressure-packed, intense battles with the Navy and Pentagon before the Defense Base Closure and Realignment Commission let me see Sonny's true character up close. Through it all he remained a man of honor, guided by faith, strong patriotism, and unwavering perseverance. But it would be his extraordinary knack to make true friends, his good will fellowship, that made the difference.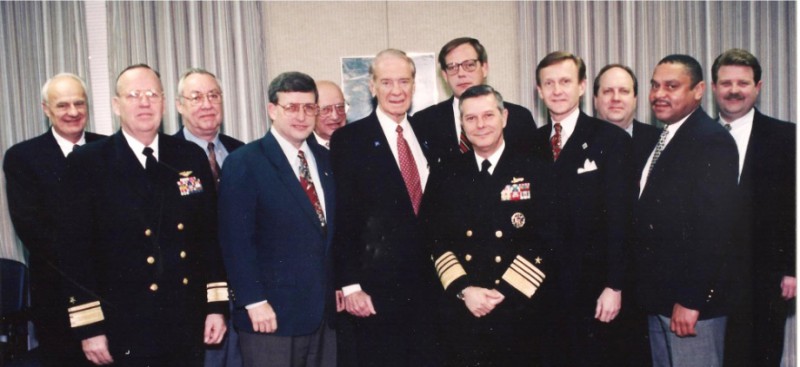 The adjacent photo shows us and community leaders in 1995 with the late Admiral Jeremy Boorda. Our team's case was strong, but it was ultimately Sonny's fellowship that got the ear of then Chief of Naval Operations Boorda. That led Boorda to publicly disagree with his boss, the Secretary of the Navy, about NAS Meridian in sworn testimony before the BRAC commission – an extraordinary occurrence that allowed the base to survive its third consecutive BRAC round.
During this period our community learned important leadership lessons from Sonny. We embedded his leadership approach in the Leadership Lauderdale program and, later, its components – faith, fellowship, patriotism, and perseverance – would become the guiding principles of The Montgomery Institute.
It was a privilege to know and work with Sonny and be his friend. I've never met a more remarkable man.
Bill Crawford