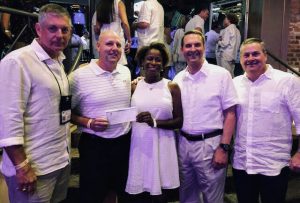 At the 2018 National Guard Association Conference in New Orleans this past weekend, GVSMF Executive Director & President Bradley J. Crawford was able to present the GVMF 2018 Contribution to Brig Gen (Ret) Allyson Solomon, Youth Challenge Foundation Executive Director.
Joining us for the presentation were MG Durr Boyles, MS National Guard Adjutant General, Gen Joseph Lengyel, Chief of the National Guard Bureau, and Brig Gen (Ret) Roy Robinson, National Guard Association of the United States President.
The total contribution was $17,500 with $10,000 going to the Youth Challenge Foundation and the remaining $7,500 coming back to the Mississippi Youth Challenge Program at Camp Shelby.